Gig Harbor Hypnotherapy and Massage Testimonials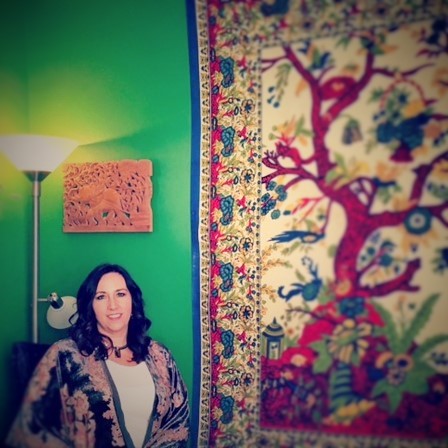 "Dear Stephanie,
I had never been hypnotized before my session with you, so I had no idea what to expect. I was surprised when you told me before hand that I would still have one foot in consciousness... but as I have known you for several years, I had complete confidence in you and was very relaxed although I had no expectations.
It is hard to relate what an emotional experience I had and what this brought up for me. So vivid and totally unexpected. I had a tremendous relief and was explaining, through tears, the jist of a lifetime I never would have known about.
It explained a lot of my concerns in my present life and why some issues are particularly important to me.
Thank you so much Stephanie. You are such a caring and wise person and I admire the direction your life is taking. You have many gifts and it is inspiring the way in which you are using them.
Many Blessings"
- AS, Gig harbor WA
---
Client's response after their first hypnotherapy experience:

"I feel... Joyous... Like I came out from under a blanket and am seeing a blue sky for the first time. Lighter ... Very cool ... Very emotional in a super cool way... Smiling and my cheeks are starting to hurt ... This has been such an amazing journey! I knew you would be the perfect addition!"
- BL, Gig Harbor WA
---
"Compassion, direction, and encouragement were the highlights of my hypnotherapy session. No one can doubt Stephanie's sincerity and passion for wellness, so this makes for such a comfortable atmosphere to feel safe in expressing one's thoughts. I highly recommend this added wellness feature that Stephanie is now offering."
- BP, Gig Harbor WA
---
"Had my first session with Stephanie recently and it was exactly what I was looking for. A very intense session where a lot of things came up that I hadn't remembered in years. She really took the time to understand my needs and help me achieve my goals while treating me with compassion and empathy. I look forward to our future sessions and I would absolutely recommend her to anyone who is seeking a professional and caring hypnotherapist."
- RC, Olympia, WA
---
Was your hypnotherapy session helpful, and how?
Yes, it made me more aware of subconscious mind and what I may be holding onto.
What did you learn about yourself as a result of your session?
That I have adopted some traits that I would like to change.
Who would you recommend this service too?
My friends and family.
Did you feel safe/comfortable?
Definitely, Stephanie is trustworthy and very comforting on all levels.
Was I competent in your session?
Yes, when I was unsure and needed clarification, you made things clear.
What improvement's have you noticed in your life as a result of your session?
I have a higher level of awareness.
- Anonymous/Gig Harbor WA
---
"The natural path to healing, all in one location."
- MC. Silverdale, WA
---
"I highly recommend this therapeutic experience. Stephanie's gentle and calm nature, her professionalism, and the soothing environment of her office created a safe place for both of my hypnotherapy sessions. In the days and weeks following the sessions I found myself making better choices and thinking more positively with ease and peace. I believe that the areas I worked on are healing gently and naturally. I will gladly call on Stephanie again when I have more issues that will benefit from hypnotherapy."
- JH Gig Harbor
---
"As an athlete, an older athlete, I believe my success, my continued health and fitness, depends on me taking care of my body, mind and spirit. As a certified personal trainer, I believe EVERYONE should take care of their body, mind and spirit. I am so grateful for Stepanie's massage and hypnotherapy expertise. With Stephanie's help, I was able to achieve a huge goal of mine...making it to the podium by finishing 5th racing my bike at the National Masters Road Race Championship. I highly recommend Stephanie for everyone!! Thanks Stephanie!!"
- BG Gig Harbor
---
"Stephanie is a superb and masterful teacher and healer. Those who have a chance to work with her are truly blessed by a great and amazing soul. Her wisdom and love are immediately felt by her calm and balanced demeanor. Lucky are those who are among the ones touched by this wonderful angel."
- RS, Tacoma WA
---
"Stephanie was great! It was my first visit, and I can't wait to come back!"
- JO, Gig Harbor WA
---
"Stephanie has been giving me massages for years. Because of my recent health challenges, she totally changed her approach to my massage on Friday, providing an amazing treatment. It was a great boost to my healing process. Thank you, Stephanie"
- BW, Gig Harbor WA
---
Stephanie has been always easy to connect with heart to heart, it is as if she is waiting to have a conversation with you and without prodding or pushing you will come to your own conclusions and Stephanie will support and encourage you ."
- ER, Tacoma WA
---
"You always help me to see another perspective and changing the statement from "my body or this situation is betraying me" to "honoring my body and the situation" definitely helped with the flow of my thoughts and allowed me to envision the next action I take to do just that."
- TL, Phoenix AZ
---
"During our sessions together, you always have pearls of wisdom that assist me in looking at situations from an angle I haven't considered, and are so simple and peace-generating, as well as liberating!"
- MW, Gig Harbor WA
---
"I have had two sessions of hypnotherapy with Stephanie and will no doubt see her again .I felt very comfortable and relaxed in her cozy room. She was quite competent in getting me to my subconscious level. I'm sleeping better, which makes me calmer and less stressed during waking hours = happy husband!!"

- BJN, Gig Harbor WA
---
"Best massage therapist. Stephanie is a true healer with many talents! Hypnotherapy was an awakening experience!"
- CW, Gig Harbor, WA
Contact Us for More Info about Gig Harbor Hypnotherapy and Massage Testimonials